Workstation
AD-E1317
Accessories
Comfort Recess
AD-AFS-CR
Casters
AD-AFS-CASTERS
Grommet
AD-AFS-GRM
Freeway
AD-AFS-CCF
ADA Sign
AD-AFS-ADA
Equity 1317




Accessible computer workstation accommodates wheelchairs with hand crank adjustment



The ideal solution when frequent adjustment is needed to accommodate students who use wheelchairs. This flexible ergonomic workstation accommodates students of all ages and abilities. Two easy-to-turn hand cranks provide infinite surface adjustment (between 24-38 inches) to meet the functional requirements of students with disabilities and the requirements of the ADA. The keyboard and monitor sections adjust independently for adequate knee clearance space for wheelchair users and the appropriate view height when using a computer.

Standard features:
Durable laminate surfaces. The keyboard surface measures 48" w x 13" d; and the monitor surface measures 48" w x 17" d.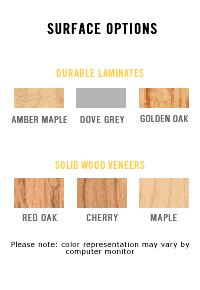 Accessories: (Mouse over option for details)
• Comfort recess
• Locking casters
• Cable management grommet
• Cable control freeway
• Universal ADA signage

Delivery lead time: 10 days

Assembly time: 20-40 minutes

Call for discount on shipping when adding accessories to workstation: 877-608-9812

Please ask about quantity discounts.