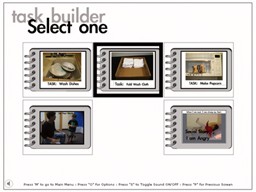 Students will be able to select a task
to review step-by-step instructions.
Task Builder is especially for students on the autism spectrum who need step-by-step visual information for doing tasks or following a schedule. This program can be used to teach or reinforce the tasks.

Use Task Builder to illustrate tasks showing the steps in detail using photos, movies, words and speech. Use the Task Builder social story templates and add your own student's photographs. Student uses Task Builder to review the tasks, playing any step over and over again or clicking to go to the next step in the process.

STUDENT GOALS


- Increase skills in following visual structure
- Increase skills in following directions
- Increase skills in doing tasks



FEATURES/BENEFITS


- Create visual tasks with pictures, movies, words and sound for autistic student
- Create step-by-step task or social stories to give visual structure
- Use movies to show a task being done
- Use pictures of the student doing the tasks to increase engagement and interest
- Print tasks for student review
---
- Print the tasks in small or large format for the student to follow.
- You can also put the printed steps on display in the work area.
- You can share tasks with others. Just export a task and the Task Builder Player goes with it.
- You can also import tasks created by others into your copy of Task Builder.

Win ME/2000/XP, 256MB RAM
Mac OS 9/OSX Classic, 256MB RAM