Learn about 116 different foods ranging from fruits and vegetables to fast food,
as well as Mexican and Chinese foods. Use this program with your cooking and home economics classes and with activities of daily living curriculum such as grocery shopping, meal planning and dining out.

Each full color photograph morphs to a line drawing and the Mayer-Johnson PCS symbol while music plays. Each word is announced and appears in text to reinforce emerging literacy skills.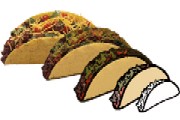 Watch each food morph
Overlay CD for Teach Me Functional Foods
STUDENT GOALS
- Increase vocabulary understanding
- Increase auditory/visual attending skills
- Increase language expression

Fruits & Vegetables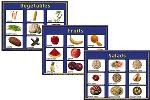 FEATURES/BENEFITS
- 15 categories of food
- 116 different food words
- Change age format for teaching choice making and access
- Collect data on student performance

Test Me, Score Me for
Teach Me Functional Foods
Teach Me Functional Foods
Win ME/2000/XP, 128MB RAM
Mac OS8.1-9.2/OSX Classic, 128MB RAM

Test Me, Score Me
Win ME/2000/XP, 256MB RAM
Mac OS 8.1-9.2/OSX Classic, 256MB RAM