Pottery: A Beginner's Handbook
$14.99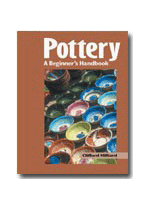 Item #
WA-016600
Learn about clay, firing, kilns, glazes, tools, and basic construction methods
Teach novice potters about clay, firing, kilns, glazes, tools, and basic construction methods one step at a time.
• How-to photo sequences demonstrate projects and procedures for making glaze test cylinders, molded pots, pinch pots, slab mugs, and simple thrown pots.
• Included are review questions and quizzes with answers, a glossary, a reading list, and and index.
ISBN
: 0-8251-1660-0
ISBN13
: 978-0-8251-1660-5
ISBN13 Explained
Grades
: 9-12
Student book- 146 pp