Basic Occupational Math (10-pack)
$117.99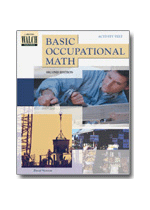 Item #
WA-04647X
• Places mathematical concepts in real-life settings—especially the workplace
• Covers basic operations, decimals, fractions, percents, measurement, graphing, and more
• Sums up all concepts with clear examples for greater comprehension
• Show students why math really matters at work, at home, in life!
• Updated to meet the NCTM Standards
• Teacher's guide provides suggestions for teaching and a complete answer key. A diagnostic pretest and a posttest for each chapter are includes in handy reproducible form.
ISBN 0-8251-4647-X
ISBN13 978-0-8251-4647-3
Grades 8 - 12
Format Description 10-Student Activity Text