Differentiating Textbooks (4-12)
Strategies to Improve Student Comprehension and Motivation
$22.95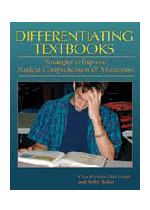 Item #
CSP-07579
(4-12)
If you use textbooks as part of your curriculum you need to have this book!
This easy-to-use resource provides over 80 step-by-step strategies for you to use with your textbooks to help build comprehension while also keeping students` interest high. With one strategy per page you can easily access information on:
• How to select textbooks and how to modify the ones you already have
• How to quickly organize students into heterogeneous pairs and small groups in some different and interesting ways
• Strategies to use before, during and after reading textbooks
• Ways to change how expository information is conveyed and presented to students
• Activities that help increase vocabulary, activate prior knowledge, and enable students to make connections to the text
Helpful graphics accompany each strategy and activity, along with a materials list and step-by-step directions. With Differentiating Textbooks in hand, you will learn how to teach the student, not the textbook.
(4-12)
160 pp