Assessment: Time Saving Procedures for Busy Teachers
A focus on classroom applications and instructional tools
$54.95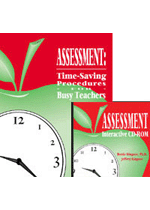 Item #
PAP-BK56
Book and Interactive CD-ROM
BOOK
Rather than an academic discussion of assessment and evaluation, this book focuses on classroom applications and instructional tools. The objective is to make assessment efficient and integrated with instruction. Included are:
• A pictorial rubric generator for young or ESL students,
• An expanded rubric generator to use across curricula,
• Hundreds of product ideas,
• Procedures and letters for parent communication,
• Integrating and assessing learning standards, and
• Well over 100 reproducible forms, posters, and examples!
Procedures you can start using today without hours of extra preparation time!
ISBN: 0-9716233-9-2 and 0-9716233-8-4
CD
This fully interactive and customizable CD-ROM provides the forms from the Assessment book for simplifying effective classroom assessments. Included are:
• The pictorial rubric generator to build rubrics as posters or handouts for young learners or ESL students, • An expanded rubric generator to choose from dozens of customizable criteria or write your own, creating an endless number of rubrics on the computer in minutes, and
• Over 120 completely customizable forms, such as self-evaluations, assessments, interviews, conference forms, goal-setting forms, product grids, borders, and parent letters!
Almost EVERY form is completely customizable for the teacher or student to use on the computer!
System Requirements
Macintosh OSX or Windows
Acrobat 6 or later