Exploring Science Classroom Kit
Linked to standards of earth, life & physical science
$697.00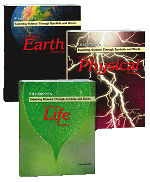 Item #
AC-ESS10
These three full-color books form a curriculum for students in grades 5-12 who read at a second grade level or below. The science readers are linked to the general curriculum in the mandated academic standards' areas of earth, life and physical science and are adapted here for student access with Boardmaker® symbols and simplified language.
Books are laminated and reusable because pages can be written on and erased. You can also print out as many pages as you need from the PDF. Use one book for multiple students, for one-on-one, or small group instruction. Books include quizzes embedded throughout each lesson in several formats. Quizzes can also be given by having students point to answers. Allows for student inclusion and access to the general curriculum.
Includes eight of each of the three textbooks, one Instructor's Guide and a Win/Mac CD containing PDFs of all three text books. Exploring Physical Science, 116 pp, Exploring Earth Science, 200 pp, and Exploring Life Science, 100 pp, all 2007.
ISBN:
1-57861-607-7