Adolescent Literacy Library
A collection of 4 illustrated student readers for adolescents who read at a 3rd grade level or below
$147.00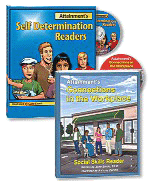 Item #
AC-RL05
A collection of 4 illustrated student readers for adolescents who read at a 3rd grade level or below.
Life Skill Readers features 40 stories with community themes. Colorful photos showing skills in context complement the easy-to-read text.
These four readers incorporate graphic novel style illustrations within a series of well-crafted stories:
Each reader includes PDFs on CD for classroom printouts of stories and activity pages.