How To Differentiate Instruction in Mixed-Ability Classrooms
See how to use students` readiness levels, interests, and learning profiles to address student diversity
$18.95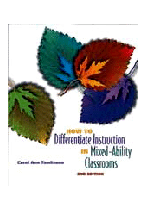 Item #
CSP-07818
(K-12)
Tomlinson shows how to use students` readiness levels, interests, and learning profiles to address student diversity. She also shows you how to differentiate lessons at every grade level and content area to provide scaffolds--as well as high-speed elevators--for varying:
• the content of the lesson
• the processes used in teaching or learning
• the products of learning
Practical strategies include curriculum compacting, "sidebar" investigations, entry points, graphic organizers, contracts, and portfolios.
(K-12)
118 pp
Published by ASCD.