Different Tools for Different Learners (K-5)
Language Arts Activities to Start Using Today
$18.50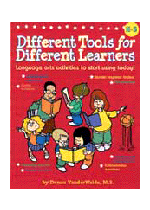 Item #
CSP-08298
(K-5)
Differentiated instruction sounds great, but who has time for all that? You do! Learn how you can . . .
• Model ways to negotiate different genres of text
• Teach higher-level thinking skills
• Give students options
• Teach reading and writing skills across the curriculum
• Assess each child`s progress on an ongoing basis
The classroom-tested activities will turn all your students into enthusiastic learners. Also included: student task cards, ready-to-use reproducibles, models of completed activities, and a comprehensive index.
(K-5)
192 pp