Teach the Way They Learn
62 Easy, Engaging & Effective Language-Arts Activities
$12.95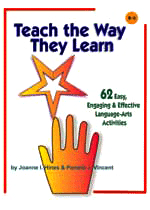 Item #
CSP-08999
(K-6)
Looking for some quick and easy language-arts activities to inspire and motivate your students? These ingenious ideas appeal to students` enthusiasm for games, parades, race cars, their own names, and much more. The activities cost little or nothing. They engage young learners. And they work!
This book will help you
:
* Introduce students to reading strategies they can use across the curriculum.
* Appeal to a wide range of learning styles and skill levels.
* Give those "can`t-sit-still" students a reason to be moving with a purpose.
* Help them make connections so they`ll retain what they learn.
Activities require minimal prep time and very few special materials, so this book is great for those days when you need last-minute inspiration! Reproducibles included.
(K-6)
112 pp